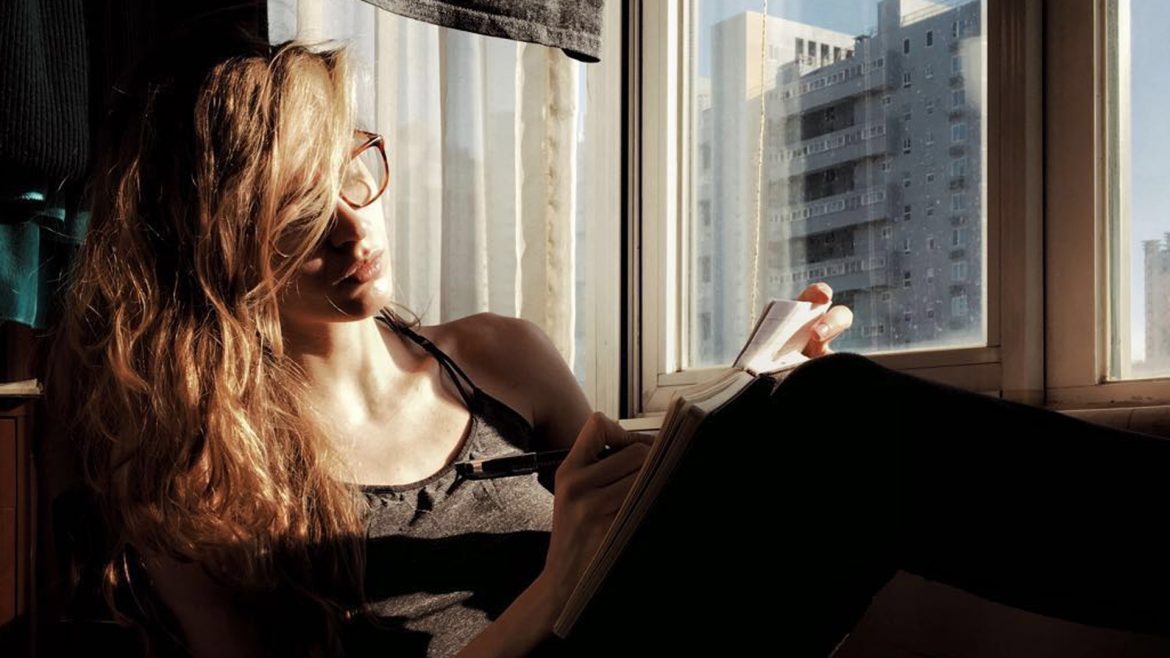 If you've been following me for any amount of time, you know that my day job is a ghostwriter.
In May 2017, I began working with a client who asked me to write the first of a 3-book series for them. They liked my style of writing and well before the 20k mark of that story, they asked me to write the other 2 books.
I wasn't aware at the time of my client's deadline and when they needed everything to be done, so I ended up here. December 5, 2017, with 20k of Book 03 written—and I have to have the other 30k written in 5 days.
Just for fun, here's a behind-the-scenes look at my progress and slowly (rapidly) deteriorating mental state.
December 5
My ghostwriting client emailed me today saying this novel (the 3rd of a 3-book series) needs to be finished by this weekend. That's 5 days from now (I'll miss one day because I'm shooting a promo video at a film studio here in Beijing).
I'm 20k in. I have 30k to go.
I can't even do the math right now because I'm panicking, but I know I'm gonna write as much as I can as fast as I can.
Luckily I already have the whole book outlined with details for each chapter, so it's more of a 'fleshing out' of the storyline—but that doesn't make this any less intimidating.
9:30 pm: I wrote the last 1.6k of chapter 4, sent it off, and somehow wrote another 1.6k in 40 minutes. New record? Yes. Celebrate? Later.
December 6
1:30 pm: After getting ready for a photo shoot tomorrow (charging batteries, practicing with a sexy 17mm lens, etc) and looking for flight tickets home next month, I'm opening my documents. Ready to kill the thousands of words dwelling underneath my fingertips now.
2:20 pm: Almost 2k in. Taking a lunch break.
3:30 pm: Back to work. Got caught up playing with the said sexy camera lens. (Going to be sad to give it back.)
4:30pm: 1.6k. Finished the chapter. Starting on the next one. Today's total so far: 3.4k.
7:45 pm: Pounded out 2.3k in the last 45 minutes. Total so far today: 5.6k. Taking a break to clear my SD cards for the shoot tomorrow.
9:45 pm: Getting a last good chunk of words in before bedtime.
11 pm: Got down 2.3k. Total today so far: 7.9k. (How?! I've never written this much in one day in my whole life.)
11:45 pm: My brain has literally shut down. I tried to write more but sometimes, you just gotta stop for the day. I've impressed myself today with how much I've gotten done!
December 7
I was gone all day to the film set for the photo shoot and got back at 9:30 pm, totally exhausted from being outdoors in the icy winds and near-zero (Celsius) temperatures all day. Thought about writing, then realized I was so exhausted I could barely drink my tea. Decided to sleep, re-energize, and hop to it tomorrow.
December 8
2:00 pm: Ate my lunch, tidied the apartment, and now I'm finally sitting down. Got to talk to both my best friend and my sister this morning, so emotionally I'm feeling good. To make this goal I only need to write 6.5-7k today until Sunday (Dec. 10). Totally doable!
3:30 pm: Finished chapter 6, writing more slowly right now (didn't have my coffee this morning, ha!) Got almost 2k written. Got distracted looking at potential flight itineraries for heading home next month. Taking a quick break and getting back to work. (It feels good to know I only have about 4.5k left to reach today's goal!)
5:00 pm: Total today so far: 3.3k. My fingers are still moving slowly, but the words are coming at a steady pace.
6:15 pm: Picking up the pace. Got another ~2k written. The chapter is almost done. Today's total so far: 5k.
December 9
6:40 pm: I spent hours today booking airline tickets, figuring out flight itineraries for the next 4 months, and fighting off a migraine (which is still lingering). Finally sitting down to write. I have 12k left. Easy peasy. (Pep talk to self?)
12:30 am: I got distracted for a few hours earlier because of a migraine. After supper, I felt better and was able to write another 2k. Finished this chapter for a total today of 4800. There are only 7.5k left until I reach the 50k mark, but I still have 2 chapters left to write. They will be short chapters as the one I just wrote was a climax (of sorts) and paved the way for the book to start wrapping up.
December 10
10:30 pm: I was out running errands all day. Squeezing in some words now.
12:30 am: Debated if it's better to stay up all night and get it done then have my sleep schedule completely messed up, or better to go to sleep, get some rest, and hammer the last 6k of this book in the morning. Voted on the latter. 2k written today.
December 11
9:20 am: Well, that was pointless. I got no more than 3 hours of sleep last night. Spent more time trying to get to sleep than I did actually sleeping. I guess my mind is ready to get the book finished, so I'm sitting down to write now. Hopefully, I'll be almost finished by lunchtime. (I'm a day ahead of the US since I'm in Beijing, so I still have some time.)
11:20 am: Just took a 30-minute break. Got the rest of this chapter finished. Only one more! Total today: 2200. My mind is fading fast after a sleepless night so I'm going to crank this last one out and crash for a nap.
12:15 pm: I can't focus. I think my brain has melted and come out my ears. Send help.
6:30 pm: Actually had a meltdown earlier from writing so much (AKA "Living the Lives of Four Different People for Hours Every Day; or, I Hope I'm Not Getting Carpal Tunnel"). Crashed for 3 hours after an Omega-3 rich lunch of 3 different types of fish. I feel better now and am nailing this chapter down NOW.
8:30 pm: In a 60-second brain break, I added up all the words I've written over the last 4 days and it has already reached 30k. What the heck?! I'm almost done with the last chapter. I'm hungry but I'm going to finish this.
9:20 pm: IT IS FINISHED.
I sent off the chapter as soon as I made sure the ending packed a powerful enough punch—and then I temporarily died. My mind had abandoned my body, disappearing into the netherworld, and when at last I became conscious many hours later, I found myself sprawled on the bed amongst many pillows.
Eventually, my mental state was sharp enough to add up how many words I had written over the course of the past 5 days. The total number came to 32,612.
Do I recommend pushing yourself like this with your own writings? I think it's healthy to push yourself past your limit. You discover how strong and resilient you are.
If I had never pushed myself, I wouldn't know that I can comfortably write 2-3000 words per day (sometimes 4000, depending on the story).
However, this "challenge" was too much for me. One day of mad writing like this is good every once in a while, in my opinion. Forcing the words out is good sometimes, even if you end up not using any of what you wrote; you learn a lot about yourself that way. In this case, I had to do it 5 days in a row (with the pressure of not writing on the day I was working the photoshoot)—and I had to make it good enough to send to my client.
In the end, I'm very glad I got to write this series and work with this client. I always learn from people I work with, which only makes doing what I do more rewarding. Am I glad I don't have to write these crazy numbers every day anymore? Well…I'll settle with my average of 2-3k per day, please.
(Dear Client, if you're reading this article, I had a great time working with you and I do hope we can collaborate again in the future. Thank you for bringing me on board with this project!)